"Always be closing!"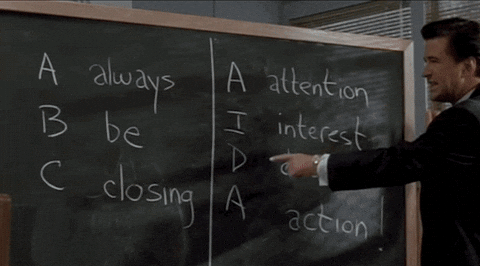 Those are the words of Alec Baldwin's character in the 1992 film Glengarry Glen Ross.
In the film, his character, Blake, shows up to whip the salesmen in shape to be better salespeople.
The promise was that management would fire all but two of the salesmen in a week. Only two will remain, the two with the top two leads and closing.
So, the salesmen set off to close the most sales and often used "questionable" tactics.
Most people have an image of sales being like these swindlers. People also think of slimy car salesmen.
Thus, this sets off a negative connotation about sales. Then, somehow, we end up in business, and now we have to sell our product or service.
It leads people to be stuck.
I found myself in short-term gigs where the goal was to sell. One time, I was on a phone that dialed numbers, seemingly, at random to get people to buy promotional advertising.
That was stressful.
Another time, I was set up on a team of people who went door to door (yes, really) trying to sell alarm systems.
I didn't like that either.
Nevertheless, I looked up from my retail job one day and realized that if I were ever going to do anything better, I would have learned to do sales or embrace sales.
While working in a bookstore, I was tasked with asking customers for an email address, in person. It was a numbers game mostly, but sometimes, we could influence the outcome.
Usually, if the customer likes you, they would give it a shot or, at least, listen to your spiel.
I usually was one of the top employees in getting sign-ups which was impressive because I checked out the most customers.
Selling issues can be a mindset as much as it is the need to acquire the skills.
One thing I've learned about copywriting is that you are doing sales; only you are doing it in written form.
Today we will look at three things that will help you improve your company's sales techniques.
Learn how to persuade
It is easy to go overboard, pester someone until the cave or tell them things that aren't quite true. However, persuading is a different tactic altogether.
In fact, start learning the 7 Principles of Persuasion by Robert Cialdini.
Conversion Expert Talia Wolf has a fantastic review of the principles in an article:
How to Boost Conversions with Cialdini's 7 Persuasion Principles.
With great power comes great responsibility. Use it for good. Do not succumb to the power of the dark side.
Here are a couple of other articles from the CXL blog:
How to Use Cialdini's 6 Principles of Persuasion to Boost Conversions
Cialdini's 7th Persuasion Principle: Using Unity in Online Marketing
Learn to overcome objections
When I was helping the bookstore gather email addresses, one of the things we discussed was overcoming objections.
The principle we were supposed to go by was to try to overcome one objection.
In the world we are in today, overcoming objections comes from listening because our potential customers aren't standing in front of us with a counter between us.
So, it comes in emails, Zoom calls, direct messages, and much more.
Listen for misperceptions about your product or service and gently challenge them.
5 Tips for Overcoming Objections in Sales
Build trust
One thing that is different from the door-to-door and phone sales versus how we sell now is time. We don't close anyone in a few minutes.
We aren't operating on numbers.
It is about time and trust.
I was visiting with a friend this week who is in the roofing business, and he told me about a project he closed worth over $100K.
It took him a long time. So many things had to happen before they could even sign a contract. Finally, my friend, Scott, said he would text them once a month to let them know he was still there.
Imagine if he said, "They ghosted me, and I will never hear from them again. So, I'm moving on."?
There would be no large project.
Sales cycles are different. Some people need longer, and others don't.
If you look back at Cialdini's persuasion principles, Liking is one of them. Liking helps elicit trust.
How many times have you heard, "People do business with those they know, like, and trust."?
As my friend Rob Cairns always says, "Marketing is like dating. It takes time to build that relationship."
Well, the same is true of sales, and that is why sales and marketing go together.
5 Ways to Gain Trust in Sales (Backed by Science) 
Resources
Sell by Helping by Nick Gulic
Nick has created a course that helps you sell by helping. It was created for business owners who need help with selling.
It includes four modules, and he currently has a discount.
Sales Mindset By Linda Perry
If you are looking for more help in the mindset department, Linda Perry has been helping others for years.
Sales Training Mastery by Joel Klettke
Joel helps entrepreneurs who find themselves having to do sales in their business. The two pieces of training have helped several entrepreneurs close five-figure deals since their release. In other words, they have truly helped people make sales.
www.businesscasualcopywriting.com/sales-trainings/
Wrapping it up
Many of us get into business to help people solve problems, and yes, put food on the table. But, we dream of days where business drops in our laps, arrive on our front door or just comes to us with little to no work.
Don't we all.
Inbound marketing.
I mean, it sounds good, and if the environment is right, we can get some inbound leads.
The truth is most of us will have to do some outreach and close sales.
So many entrepreneurs are skittish about sales. Yet, sales is the lifeblood of cash flow. No sales, no cash.
We have to get past our mindsets and sell to people, and we can do it without being Blake and Glengarry Glen Ross or the slimy car salesmen.
Let us know how you approach sales in the MainWP Users Group.