In the past few months, I have done some presentations. In the world of a Covid pandemic, they are all virtual, of course.
To be fair, I have probably been far more comfortable on a computer screen than on a stage in front of people.
Following this week's presentation at the Atarim Web Agency Summit, I reflected on lessons I have learned from my presentations.
Today we are doing to discuss creating and delivering a presentation and how to get started.
Why do a presentation?
Before we dive into getting started with a presentation, let's address a pressing issue.
Why should we do a presentation?
Let's face it, many of us are introverted. We are also, often, allergic to attention. I completely understand.
Others just want to do work.
However, if you are running a business and need a way to stand out and position yourself as an expert, presentations are among the best things you can do. Think about it, in a room full of people, and all eyes are on you. All ears are listening to what you have to say.
Manage all your WordPress sites with the MainWP Dashboard
WordPress Management for Professionals
All MainWP Pro Extensions are available through one of our convenient bundled packages.
You cannot afford not to take that opportunity.
I have seen many calls for speakers in the past year.
For the Web Agency Summit, I was prodded by my friend Davinder Singh Kainth. I put it aside for about 24 hours. I had just finished another webinar and had a procedure. Then I thought about it and decided to submit something I could talk about with no preparation.
If my presentation was accepted, my philosophy was then I could follow through on creating the presentation.
They accepted my topic, and it gave me a chance to put ideas into a concrete form. It reinforced some of the things that I am being known for more and more, storytelling.
Simply put, doing a presentation helps us become known as an authority in a subject matter. Use wisely.
How to get started giving presentations
Getting started by presenting is one of the most excruciating and crucial steps. You gotta jump in.
I did a lot of presenting, as it were, when I was younger in church settings. Whether it was delivering a talk to the congregation or teaching a Sunday School Class, I had experience from the time I was a teenager moving forward.
One time, I created a Depression Support Group. I created the curriculum and everything. I like doing this type of thing. It gives me a sense of fulfillment and allows me to be creative.
I asked some of my friends on Twitter where they gave their first presentation.
One person said she gave a speech for the Optimist Club in 7th grade. Like me, another person got her start by teaching at church. Many mentioned presenting to a local meetup or business networking group.
If you are nervous about introducing yourself at a networking event (BNI anyone?), then you will take heart from Bob Dunn's answer.
3 decades ago I was nervous to introduce myself at a biz networking breakfast table. Then worked on bigger networking groups. From that I did presentations, workshops, etc, finding bigger groups until I could finally hit that stage 🙂 Baby steps!

— BobWP – Do the Woo 🎙️ 📰 (@bobWP) March 25, 2021
Your local WordPress meetup or WordCamp is a fantastic place to get started. Most WordCamps are very encouraging when someone presents for the first time. Give it a shot. I would also encourage you to seek out opportunities from local networking groups.
My process and evolution
When I start working on my presentation, it doesn't always look nice and neat. I usually have an idea, and I have to begin fleshing out those into concrete points.
So, I will create an outline. This gives me a chance to arrange my different ideas. I have to remind myself that this can be flexible. There are times I may need to move points around.
Sometimes, I have created content previously that can go into my presentation. This allows me to repurpose content and not create again.
I have learned to create enough slides to tell a point. You don't want too much text or elements on a slide. For me, slides are mostly like prompts.
Slides can be created in several different ways. I have used Canva, and Google Slides to create my presentations. Both work well and have templates as starting points.
We really have to be careful not to make a talk too long. Ideally, somewhere around 20 minutes is good. In fact, the TED organizers chose 18 minutes.
"A TED Talk is 18 minutes long—a length that was chosen by TED organizers based both on neuroscience and strategy. They understood that 18 minutes was long enough for a speaker to flesh out an idea, but short enough that a listener could take in, digest, and understand all of the important information."
Many people will make the notes and add them to the slides below. If that helps you, go ahead. I find them a tad distracting.
Plus, I don't have a great double monitor setup. So, I roll with it.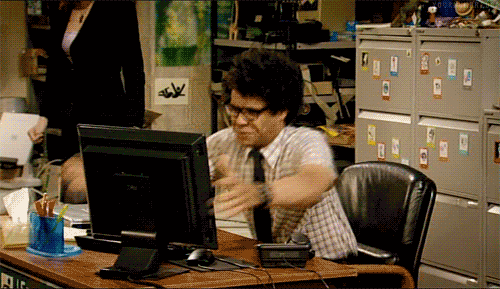 What I learned
Here are a few things I have learned doing presentations over the past couple of years.
1. Practice – I got comfortable by doing Facebook Lives. I started doing Facebook lives and didn't tell anyone. I was definitely nervous about doing them. You can call those a trial run, I guess.
2. Learn – Creating a presentation allows you to learn. Not only do you learn, but you take ideas that around loosely bouncing around your brain and put them into a cohesive pattern of thoughts.
3. Clarifies your thoughts – Grab all those ideas and arrange them sequentially and it clarifies them.
4. Creative – You get to be creative—no reason to do what everyone else does. Be creative.
5. Sense of accomplishment – Once you have done a presentation, you feel accomplished. You have likely been stretched, but you completed the task. Then you start to ask, "what can I do next?"
Wrapping it up
So, should you do a presentation? I mean, it is tempting to stay in the background and do good work.
If you are looking to position yourself as an expert, then doing presentations is one of the fastest ways to get there.
That being said, you actually have to bring the fire. You have to know what you are talking about, teach something people may not know, and do it while being engaging.
I have known many local agencies to do this well on the local stage with business groups, chambers, and even hosting their own webinars.
So, should you do a presentation? I can't answer that for you. I say do it, at least once, to see how it goes. WordCamps and WordPress Meetups are a great place to start. In December 2019, I did a presentation for a WordCamp in another city by Zoom. The organizers were ahead of the curve.
Find somewhere to present. See how it goes. Let me know in the MainWP Users Facebook Group.