Every time I hear "Independence Day," I tend to think of two things.
First, I think of the movie starring a young Will Smith and Bill Pullman as the United States president.
You know the one. Will Smith shoots down an alien ship in the desert and drags him back to some Air Force Base.
Next thing we know, there is a fight for survival as the alien invasion finally comes. The United States leads the charge as the humans defeat the otherworldly beings.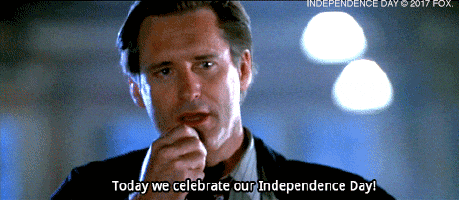 When I hear the words "Independence Day," the other thing I think of is the song by Kansas country artist Martina McBride.
It's a great song about a lady leaving an abusive relationship. It is powerful, moving you to tears.
Independence Day is July 1st for Canadians and July 4th for Americans.
I guess it stands to reason that July is the month for independence.
So, have you declared your independence?
My friend Steve Roller did in this article he posted on his website.
He declared his independence:
"Your Declaration of Independence is simply declaring to the world that you are fed up with your current situation. Explaining why you've come to this boiling point … what you're separating yourself from … and why things are never going to be the same."
He's done pretty well since.
What are you declaring independence from?
Today, in our roundup, we will take a look at a few things, including Core Web Vitals, a WordPress product that is now free, learn how to submit to the WordPress Block Pattern Directory, and find out more about the free WPMRR Community.
Get on the horse, giddy-up.
WP Engine Makes Local Pro Free for All Users
Do you use Local Pro for local development? I have, but it has been a while.
Local Pro, which was originally a part of Flywheel, came under the WP Engine umbrella when it was purchased.
According to WP Tavern,
"Beginning with version 6.0, all features that formerly required a paid subscription are now available with a free Local account. These include Live Links Pro, Instant Reload, Link Checker, and MagicSync."
Recently WP Engine announced that it is making Local Pro available for free.
According to the company,
"We're doubling-down on our commitment to give back to the WordPress community by making all Local tools and features, including those formerly only available with a paid Local Pro subscription, free and available to all Local users," said Seth Halpern, Senior Vice President and General Manager, Small and Medium Business for WP Engine.
You can learn more at the LocalWP website or check out the press release WP Engine to get started.
How to Submit to the WordPress Block Pattern Directory
I have been watching the Joe Casabona live shows on Wednesdays. If anything, I learn something almost every time.
His shows are live on Twitch, Youtube, and Facebook, where I watch most of the time.
This week I was watching him as he was making block patterns.
Now, to me, that sounds like background. When I think of patterns, I am thinking of the old patterns we used for backgrounds.
But no, he was making Gutenberg block layouts.
It was definitely interesting. I routinely hear others talk about block patterns, and my mind went to background patterns. Now I know what they are talking about.
You may have made a few yourself. Did you know you can submit those? Joe did a video on the subject.
WPMRR Community is free
WPMRR is a summit hosted by Joe Howard, the CEO of WP Buffs.
The summit talks about recurring revenue strategies.
Well, Joe has launched a free community for WordPress professionals.
It is hosted on Circle.so, a platform where I am already part of two other communities.
Circle is a nice platform, and the WPRR community is already filling up. You may find a few MainWP users in the group already.
It's free to join. Just go here.
I'll see you there
Core Web Vitals updates
I kept hearing about this Core Web Vitals (CWV) thing. There are tons of updates to the Google thing, and I don't pay attention as much as I used to.
Then I noticed two folks I follow put out articles about the CWV.
The first person I noticed was John Locke, an SEO specialist in the WordPress community for industrial businesses.
The CWV is rolling out between June and August 2021.
"Also known as the Page Experience Update, this change to the Google ranking algorithm will give more weight to the user experience of a given web page."
John talks about the new terms introduced with the Core Web Vitals and concludes with some video updates.
The next person I noticed writing about Core Web Vitals is MainWP user Ryan Waterbury.
According to Ryan, this is one of the times Google did things right,
"But this is one of those times when they've done something right. The CWV are a clear set of criteria that outline some goals for your site to achieve."
Waterbury dives into each area and concludes that new acronyms aside, the update is all about rewarding good user experience.
"Improving the items that contribute to poor CWV scores not only helps your site get found more often in Google search, but it also helps users accomplish tasks on your site faster and more efficiently when they arrive there."
I recommend you look at both of these articles if you have questions about the Core Web Vitals update.
Wrapping it up
I hope you are enjoying your independence this summer. The independence to learn more about new things like Core Web Vitals and submit Block Patterns to WordPress.
What are your thoughts on Google's Core Web Vitals update? Let us know in the MainWP Users Facebook Group.