Recently, my friend Beth Lyles Livingston wrote an article about hygiene and its effect on productivity. I loved her article.
I was inspired.
So, I came up with ten tips of my own (one cross-over with Beth's) that help with remote workers' productivity. My tips are less about hygiene and more about various tasks.
These 10 tips are true to my own experience and may also be for yours.
1. Make up your bed…
Accomplishing the first task of the day
A few years ago, one of those inspirational videos came out from Goalcast.
It was retired U.S. Navy Admiral SEAL William H. McCraven who gave a speech to the University of Texas graduating class.
He told the class, "If you make your bed every morning, you will have accomplished the first task of the day."
The Admiral went on to write a book inspired by this little task.
I have been doing it regularly for about ten years, and honestly, I didn't know what it accomplished. Then I heard the speech.
"Oh yeah," I thought, "at least I have accomplished one task."
Sometimes, I don't feel like doing much more, but at least I did that one task, and it gives me the confidence to do much more.
2. Drink lots of water. Stay hydrated
Drinking lots of water is something I have decided I need to do. Most days, I get plenty of water but sometimes, I slip. I have noticed that when I am not drinking enough water, I am more sluggish.
I believe in hydration and drinking enough water to keep your energy up.
3. Do something fun. Laugh.
Laughter is some of the best medicine you can have. I know it always boosts my mood when I have interacted with something that makes me laugh.
Cat videos work, or cat GIFs.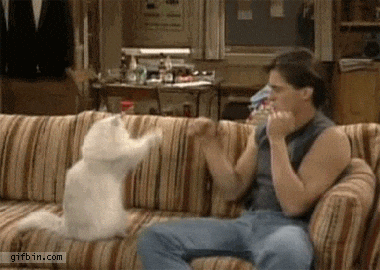 I also like to watch reports bloopers on Youtube. There is nothing like a good belly laugh to help out.
It is a healthy option for alleviating stress.
4. Ping a friend. Hop on a video call.
Hopping on a call or chatting with a friend, even if virtual, can do many things. It can help boost your mood. If you laugh together, well, you know how that helps.
Friends help with encouragement as well as sympathy when you are feeling bad.
These days, despite a pandemic, it's not hard to do. Most of us are just a click away from Zoom, Skype, or Google Video.
One of the things I look most to almost every day is getting my "Good morning" message from my friend Davinder. I also spend the bulk of my day talking to my friends Robert and Ryan.
5. Spend some time reading something.
Read something. Something not social media. I am guilty of that myself. It is way too easy to start scrolling a Facebook or Twitter feed.
I like to read blog posts on all kinds of subjects. When you think about it, our reading possibilities are endless.
We can read books online as well as in magazines. If you feel really good, you can take a book to a coffee shop or visit a local bookstore to find something to read. By the way, do they still have bookstores where you live?
Read something. Maybe even have a book you read something out every day like a favorite business or inspiration book.
6. Embrace stories.
Telling and hearing stories are valuable. This releases a chemical in our brain called oxytocin. Dr. Paul Zak has done a lot of research on the subject of storytelling and the chemical oxytocin. It changes our brain.
So, turn on a movie, pick up a book, or just go swap stories with friends. It does your brain good.
7. Play some music
When I find myself in a funk, music is almost always a way to get out. I listen to a lot of music on Youtube and Spotify. They are my go-to places for music.
On Youtube, I can quickly go down a music rabbit hole while zig-zagging through the ads. I love to listen to music from the 70s, 80s, and 90s. Yeah, that's when I grew up.
I love classic music from that time, including rock, country, and R&B.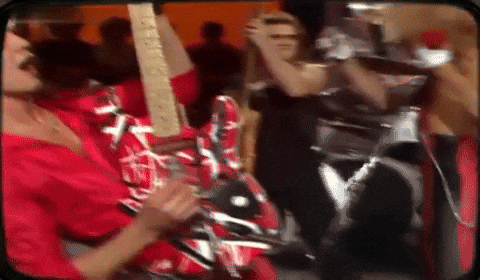 I dig some music from today as well.
I can tell you that music is great for your soul, but if you must have some kind of scientific, health benefitty thing, check out the article.
8. Listen to a podcast. Watch a video.
Put this in the category with reading and listening to music. I, like many of you, watch videos to learn something and listen to podcasts too.
I need to do a better job listening to podcasts. Usually, I am catching up with podcasts and videos of some of my friends. I really like to listen to or watch videos/podcasts about a topic that I know something about but need to learn more about. TED videos can be very educational and are often fairly short. If you watch them on the TED website, you get access to the transcript too.
I like catching live video streams when I can because there is an element of feeling like I am there and can participate.
Do you listen to podcasts or watch videos?
9. Do some jumping jacks.
When I was a kid, I played football (the American version). One of the things we did in our warmups was jumping jacks.
Of course, it is a great way to get the blood pumping. Thirty years later, I seem to have forgotten this.
In this case, I am using jumping jacks as a metaphor, but it really is a good exercise. Simply doing some kind of exercise, in short, bursts, can be a big help in getting the blood flow going.
So get to jumping, friends. Anytime you are sluggish, you have a slum, get up and jump.
If you have a jump rope, you may do some jump roping too.
10. Find something worth smiling about.
Smile. Find something to smile about. The benefits are worth the risk.
Wrapping it up
For many of us, being a remote worker isn't a huge deal. We skew introverted so, we want fewer people and more code.
But, we are made to be human and interact with humans. We have to watch ourselves to maintain productivity.
What do you do to help your main productivity?
If you need some help with productivity or just need support as a member of our industry, check out Big Orange Heart.