A few weeks ago, a call was made to make a video to be used for a campaign by WP&UP. The video was to address the perils of a freelancer in regards to isolation, loneliness, and mental health. I bookmarked the page and made my own video to submit.
By the time I had submitted, Dan Maby and the team at WP&UP had launched their first video. I saw familiar faces. I was intrigued and inspired by what WP&UP was doing and eventually connected with Dan to ask more questions. In the process, I wondered if he was willing to answer a few questions for an article here at MainWP. He agreed.
What is the ultimate goal for WP&UP?
WP&UP's mission is to support and promote positive mental health within the WordPress community.
Through a mixture of digital services, phone support, and in-person connections, WP&UP is enabling small business owners, freelancers, distributed team employees and other members of the WordPress community to reach out and discuss what can often be a difficult and very personal subject; their mental wellbeing.
Reducing social isolation is one area of focus for WP&UP. Through our experience gained over the years of running the WordPress London Meetup, we're applying lessons learned about inclusiveness, accessibility, speaker support and content management to other meetups and events across the UK. We're currently in talks relating to our first event outside the UK too, which is very exciting, more details on that soon!
If WP&UP can have a positive impact on an individual's mental state of mind through open discussion, education or support, then we're doing well. If it can touch the lives of many within the community through talks, events and training programmes, then we're achieving our mission.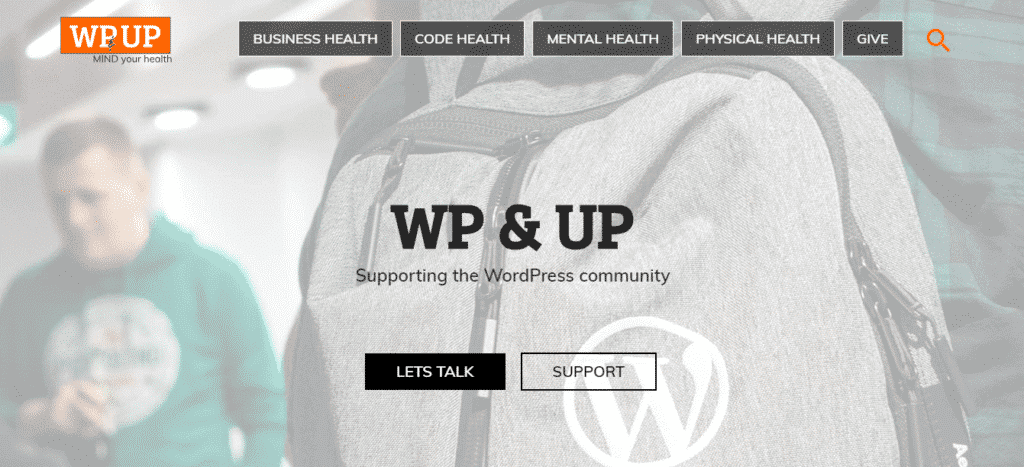 There are several hubs on the website. What is it you want visitors to be able to accomplish?
The WP&UP Health Hubs will provide education, training, and support for Code Health, Business Health, Mental Health and Physical Health. The overarching focus of WP&UP is mental health; we recognise however that individuals can potentially manifest mental health issues through many aspects of their business or employment.
An example of our Health Hubs in action might be; Jo (fictional) is a freelance developer, she struggles with closing sales and regularly finds herself feeling stressed and anxious due to financial commitments. Potentially Jo could contact us through our Business Health Hub, thinking her issues relate to a lack of business training. Following discussions with a WP&UP team member, it may become clear that her issues aren't quite as simple as a lack of business knowledge and a combination of the Mental Health, the Business Health and the Code Health Hubs would be the most appropriate solution.
Every person that engages with WP&UP is unique, and we recognise that there's no one size fits all solution. Our Health Hubs allow us to tailor solutions to the need.
Manage all your WordPress sites with the MainWP Dashboard
WordPress Management for Professionals
All MainWP Pro Extensions are available through one of our convenient bundled packages.
WP&UP is formed of members from in and around the #WordPress community, wanting to support others#PressForward #MentalHealthMattershttps://t.co/0Kd50skFrA

— WP&UP (@WPandUP) August 14, 2018
What was it that led you to decide to create this platform? Was it an event, something that happened, etc.?
Back in 2009, I discovered the power of WordPress. In 2012 I met the WordPress community. In 2016 I relied on the community!
Over the years I've developed, run and sold businesses. I've built communities and supported individuals to grow. I understand the challenges, the highs, the lows and the impact all this can potentially have on an individual's mental health.
I had success and failure. I'm grateful for both because they've lead me to this moment, with the skills and understanding I now have.
Back in 2014, I recognised a dark feeling that I thought I'd combated earlier in my life. Depression started to consume me, impacting relationships, friendships, and my business. At the time I felt the desire to bring something to the community, this was when I registered the WP&UP Twitter handle. Unfortunately, I wasn't in a strong enough place to do anything more than I already was for the community through WPLDN.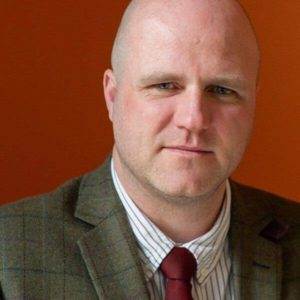 By 2016 I was at my lowest point. I privately reached out to members of the community I felt I could trust and opened up. To my surprise, a number of them either were or had been in a similar situation with their mental health.
By 2017 I started to give talks on the subject, and every time I opened up, I was humbled by the response from the community. By the end of the year, I started to reach out to see if other people would be interested in bringing something more formal to the community, to support and promote positive mental health.  Since then WP&UP has grown to a team of 16 volunteers to-date.
The videos are an important part of what you are doing. What are you hoping to gain from videos of WordPress professionals as they share?
The #PressForward campaign was a whirlwind! From concept to the first video was a little under two weeks. We wanted a way to introduce WP&UP and its mission. A script was written, passed around the team for feedback and a few direct messages sent out to members of the community. These members told others, and before we knew it, we had more videos than we could include!
When you watch the video, you'll notice the call-to-action (because we all know we need one of them) is focused on supporting local WordPress meetups and WordCamps. Any event that brings people together within our community is a good thing!
Wrapping it up
Check out the movement by WP&UP and see if there is a way you can help or be helped by this community. I appreciate Dan taking some time out of his busy life to answer some of these questions. It is good to know there is a place where we can share our struggles with our peers.